When a normal person visits a web page, all he sees is content: text, rich media and links. When a marketer visits a web page, his first thought is how many people this page attracts and his second thought is why (that's when content evaluation comes into play).
This week I've compared three multi-feature SEO toolbars that may partially answer the first question: how well a page might perform in search engines.
But unfortunately, those toolbars has little (or nothing) to say about the page social media popularity. The best social media monitoring FireFox addon I am aware of is Social Media for Firefox Extension. For any page you visit it displays:
Digg score;
Reddit points;
Stumbleupon reviews;
Mixx upvotes;
Sphinns;
Tip'd votes;
Twitter messages.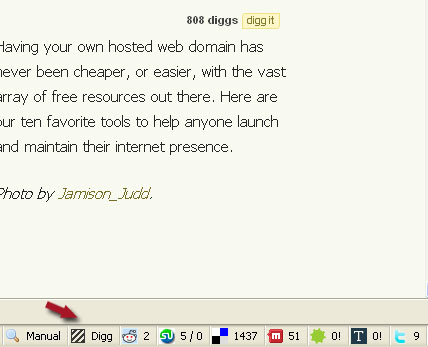 This gives you sufficient data to assume how popular a page is and how much traffic it might have generated from social media sites.
All the information is displayed in the status bar. You can configure it if you want the data to be retrieved automatically for each page you visit or manually (when clicking the tool icon). You can also remove any network if you don't need its ratings.
Clicking each social network icon will bring you to the submission page where you can vote or comment (except for Twitter icon that opens search results). If the story hasn't been added to the network yet, clicking an icon will bring you to the page where you can submit it.
Which social media addon are you using? Please share them in the comments!
Written by Ann Smarty