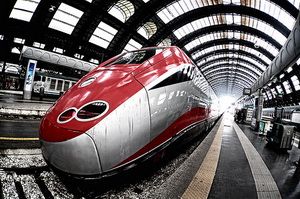 A few months back I was talking with one of my B2B SEO clients about the company blog she was trying to push through. Her company had the manpower and the other internal resources needed to create a great looking blog (for both the human reader and the search engines) and she had some great ideas for how to promote content, get the attention of other industry thought leaders, leverage existing resources and much more. She just had one little problem…she couldn't get anyone to sit down and actually write posts for the new blog! The company has several software products and each vertical has its own product manager and individual team of developers, programmers, and sales people and so forth so the problem wasn't that there was no one who could write; it was that no one wanted to because they didn't see the point.
Each product manager was fiercely protective of his/her own product and had very specific ideas for what the blog should look, feel and read like (with their own product as the star of course). But the blog was meant to serve the company as a whole, not any specific product line and my client was having a hard time getting all the product managers onboard with her content marketing campaign because egos kept getting in the way! It was her dilemma that prompted me to ask Ruud Hein, Editor-in-Chief of the Search Engine People Blog, how he gets a team of people with their own goals and objectives onboard the company content marketing train. Here's what he said;
Get real: nobody gives a … nobody cares about what you do. When's the last time you were super concerned with or fascinated by what a co-worker does or is trying to achieve? At least half of the people you deal with are their because they have to make a living; if they win the lottery tomorrow they're going to pursue their dreams and that job and your SEO stuff is not it.
So the trick, "trick" rather, the way in is to figure out how you can help them. What can you help them accomplish? How can you make them look better? How can you lighten their load? What's in it for them and how can you deliver it to them.
Just like you have to convince your target audience what's in it for them by choosing to work with/buy from your company, Ruud is saying you have to apply the same strategy to you in-house teams if you want to get everyone onboard the content marketing train. Why would my client's product managers want to bother writing one blog post a week? Well, aside from saying "what's good for the company is good for your product!" (which I'm sure she did), my client also had to position the personal value of writing for the company blog. By contributing just one blog post a week to the company blog the product managers could actually build up their own personal brand and authority, which they could leverage into other opportunities later on in their career. After all, when you build a name for yourself you get to keep that power and respect and expertise no matter what company you work for down the road.
She also had to convince the product managers that writing in the blog (and getting their sales team involved) could help generate more targeted leads for their sales funnel. The content they write could help attract the right kind of leads and weed out the tire-kickers that their sales team didn't want to deal with. The sales team knows what kind of information the "good" leads are looking for because they are the ones fielding the questions. Those questions make great starting points for a blog post and give the sales team something to reference or send to prospective customers for future reference.
As Ruud pointed out, the "trick" to getting everyone onboard the content marketing train is to make it about them. How is a blog post or an article going to make their personal day-to-day better? You would assume that helping the company overall improve would be a good enough reason, but these product managers were more concerned with their own quotas and benchmarks then the company at large. After all, they wanted to make their team look as good as they possible could each quarter so they could get a bigger budget, more staff, more internal support and so forth. My client had to show each product manager how content marketing could help them do just that.
If you work for a mid-sized or larger company and are struggling to get everyone onboard the content marketing train just remember that you sometimes you have to make it personal!
About the Author: Nick Stamoulis is the President of B2B SEO services company Brick Marketing (http://www.brickmarketing.com). With over 13 years of industry experience Nick Stamoulis shares his SEO knowledge by writing in the Brick Marketing Blog and publishing the Brick Marketing SEO Newsletter, read by over 120,000 opt-in subscribers.
Contact Nick Stamoulis at 781-999-1222 or nick@brickmarketing.com.
Image Credit: 1.