With the ever growing popularity of blogs and social voting / bookmarking sites, you may wonder if good old 'web 1.0′ forums are still worth the effort. My immediate definite answer is "Yes" and here are my points:
Forums are still a good source of niche news and useful tips: look at WebmasterWorld forums – its Google section is my daily inspiration.
Many forums still "follow" the links – and even if they don't, a link to a good page placed in the good place is an effective way to 'bait' for more links (bloggers research relevant forum discussions when gathering information for their new posts and will most likely link to your page if it adds value to the discussion).
Forums are still a great way to find highly targeted audience and build connections with fellow webmasters and bloggers.
So how to look for the relevant forum threads and discussion boards. Here are the resources that help me, add yours in the comments:
Omgili is a great way to search for forum discussions. It can be integrated into FireFox search plugins. It shows the number of related discussion for each listing in Google SERPs. What's more, its "Forums and Discussions" tab lists all relevant discussion as well as the number of replies in each: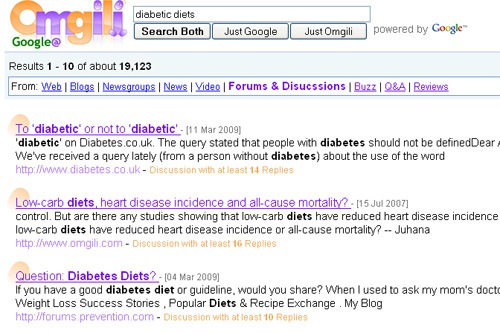 Update: Also visit Directory Omgili to see forums in their index.
Board Tracker is another way to search for relevant discussions. It shows the date when the discussion was updated, number of replies and the author.
Big Boards – that's not a search tool, rather a directory of relevant forums. I like it because the selection is rather high-quality there.
Please share your tips, resources and experience!
Written by Ann Smarty