Friday's SEO tip is by Alexander Villamizar of LatamSEO.com
Not long ago I read the post called "Website Usability Equals Better SEO" and here's a quick tip to improve your site usability!
By using click recording software, you can learn a lot about your site usability and user behavior: which elements of the site attract more clicks and if the users do what you want them to do.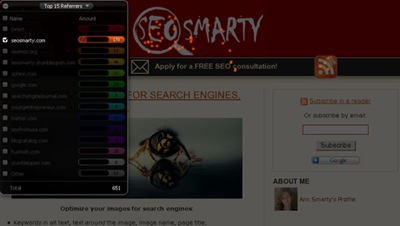 ClickTale is web analytics software providing click maps for any page you install it on. To get it working on your website, you just need to register, generate the tracking code and then place it in the pages you want to track – pretty much the same as Google Analytics.
It has a number of packages, one of them is free, so you can check how the tool works.
Ann's note: Another similar software is Crazy Egg (see the screenshot above) which also offers basic / free package.
Do you use click recording software? Please share your thoughts!
Written by Ann Smarty