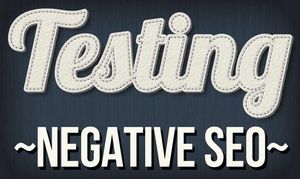 My friend's website recently found itself on the downward trend after a year of dedicated upward movement. His website is profoundly unique and offers original content with personalized stories, images and so forth. More than that, he's linked into all kinds of social media and does his share of work to get his business site seen. However, it was maddening to him as he was suddenly on the second page after trying to improve his ranking for weeks. He finally realized that he had become the target of a negative SEO campaign. To those people who didn't know this existed, negative SEO is becoming a new online evil. Tasty Placement recently sponsored a study to show just how a negative SEO campaign can affect website's search engine rankings for the worst.
The study results can be seen in Tasty Placement's infographic "Is Negative SEO Real?" The study shows that yes, in fact, it is real and it's already happening to tons of small business websites out there. The study followed the search engine rankings of its own site, pool-cleaning-houston.com, which had high rankings on the first page to start with.
After one month of junk links on forums, comments and sidebars, the start up site went belly up, falling to number 14 and off the front page. For small businesses, this could be the end of a very successful online presence. Tasty Placement admits that it tanked its own website which had been viable for two years with a steady search engine rank with thousands of forum links, trashy comment links and copious sidebar links to effectively prove that negative SEO is real and incredibly damaging.
The news gets worse. Not only is it real, but it can be achieved with less than $50. At just $10 per week, a competitor could not only tank your rankings but take you out of the competition for good. If this infographic doesn't paint the picture clear enough, there are multiple sites out there that can tell you just how it happened to them. My friend's business has recovered but only after a costly anti-negative SEO campaign. It's enough to make you wonder if small businesses are the only sites at stake.
This infographic was designed and developed by TastyPlacement, Inc. in Austin, TX. If you want to learn more about SEO visit their site.