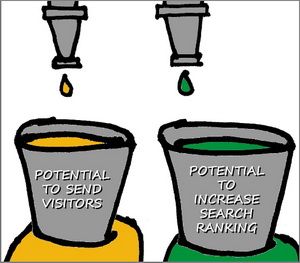 Recently SEOs have started to be afraid of Penguins. These ferocious beasts have devoured websites the world over. Is there a cure for this blight? Yes there is- a diverse link profile.
When a link builder only focuses on links with the intent of increasing the search ranking of their website they are risking the success of their website on the current algorithm. When that algorithm changes (presumably to prevent people from gaming it, like they are doing) they risk losing the benefits of their efforts and have to scurry to find the next way to trick Google.
What I am trying to show in the infographic, below, is that links can be valuable even if they do not help increase your search engine ranking. When you approach link building in this way your website will not be as dramatically affected by changes in algorithms and you won't have to fear Penguins- or the next furry creature to attack the web.
Infographic by SEOrisk.com
Bio:
By day, David Zimmerman is a professional SEO. By night he is developing a community to discuss SEO tactics by risk: http://seorisk.com/. On the weekends you'll probably find David in his garden. You can discuss this infographic with him on Twitter: @SEOrisk.