My favorite Google advanced search option is its date range allowing to sort search results by most recent ones. So this time I am sharing my really quick (and useful) tip on how to make the most of it:
1. Keep it always on your Google (home) page: "Keep Your Google Search Dates" – Greasemonkey script – it keeps the advanced date search drop down always on Google home page and search results page for your easier access to this great option.
2. Track most recent mentions of your brand / domain name / keyword : copy – paste the URL of the search results using the date operator and set tracking via FireFox addon called UpdateScanner that lets you monitor any page changes:
it allows you to set the scan frequency;
it alerts you of the changes instantly;
it highlights any page changes.
Thus you will be able to track all recent results containing the term which has just been indexed by Google: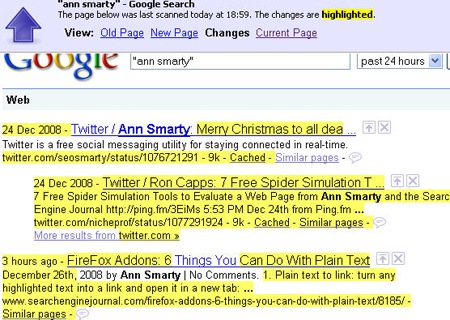 How often do you use Google date operator? Share your ideas!
Written by Ann Smarty