Social media websites are constantly gaining popularity in SEO's world and many SEO experts pay a lot of attention to the role of social signals when creating their own link building strategies. Getting socialized and making contacts with as many bloggers and site owners related to your niche can help a lot to generate links to your website and of course to get higher search engine traffic.
The latest Social Media that I've found or more to say a social media game is called Empire Avenue. This is one of the funniest simulation games and it pretty much reminds of an online stock market.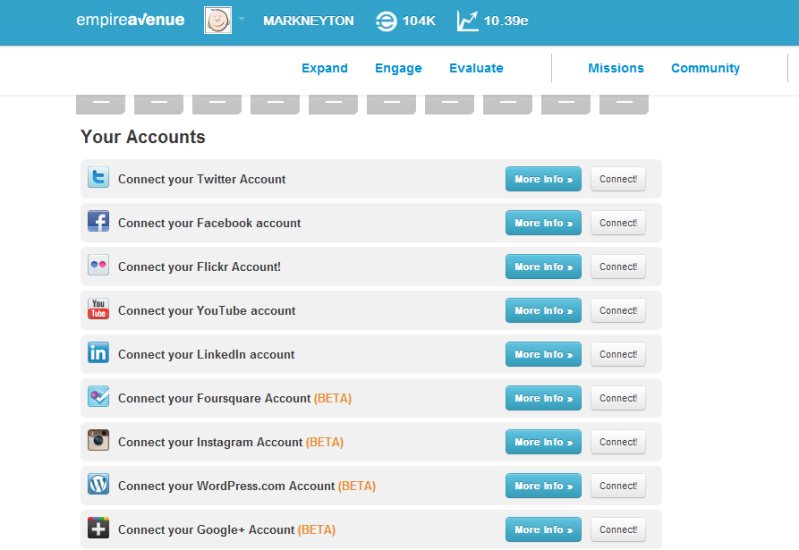 Basic steps to start your game:
One of the most obvious advantages of Empire Avenue is that you sign up for free. You have the option to choose a username (or as it is called ticker) or log in with your Facebook or Twitter account. Once you are signed up you have many options to connect your social networks like Google +, LinkedIn, YouTube, etc.
Each player in the game have a portfolio and you can buy or sell shares from other players or websites. There is virtual currency in Empire Avenue which is called eaves. You can use it to invest in other players, as the maximum shares that you can buy in others are 200. Each player has a share price which is based on his online activity. It's simple like that – the more active you are in the social networks the more your value grows and of course more people invest in you, which brings you eaves.
How to Make Eaves?
There are several ways to gain eaves in Empire Avenue. One of them of course is to buy eaves with real money. If you do not have the time to be active in Empire Avenue and you want to develop your profile quickly and easily, that's the way to go.
Another cool way to gain eaves is to invest in other users or buy shares in them. The more you invest in other users the more your share price increases and you earn more eaves daily. It's easy for you because when you invest in another user you can see how much eaves you have, how much will cost you to buy shares and what is your daily dividend from them.
And if these ways are not enough for you to earn eaves you can go on a mission! If your share price is more than 30e you can set a mission and offer other users a certain amount of money to complete it. You can also set up how many people can finish you mission depending on how much eaves you've got. Here comes the fun part, because you can practically make people to do whatever you want and pay with virtual money. You can ask people to like your Facebook page, visit your website, visit your blog etc.
In conclusion Empire Avenue is not just another Social media, but also a fun and easy way for you to promote and introduce to all your shareholders your blog, website or any kind of content that you want. It's all up to you – invest more and get socialized with more shareholders!
This article was written by Mark Neyton, who is currently working as a SEO specialist. He is interested in SEO services, online marketing, social media websites. For more useful information about SEO services you can follow this link.