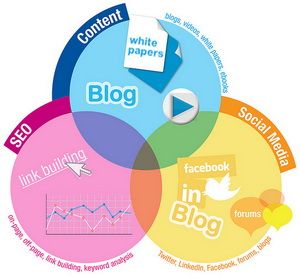 Content Marketing is the form of marketing that involves creating of media and publishing it so that a customer might be acquired. It also involves sharing of sharing of the media, already published or otherwise. Its basic purpose is to provide valued information to the user, it's almost like a sales pitch or a sales call to the customer to take an action, but isn't quite the same thing because it just influences a customer and there's not necessarily an immediate action involved from the customer.Content creation is important because people now actively search for answers for every little question they might have, and they are seeking them from everywhere. Content creation and thus content marketing needs to keep in mind what the user is looking for, what you can provide that matches the user's goal in the best possible ways, and lets them move a step further towards the right decision.
Content marketing involves information about the product or service on offer, the benefits that can be availed from using the product or service from the content provider, how the information that has been shared could critically impact their business. Thus content marketing techniques should be inspirational and entertaining (of course, only if it is suitable as per the situation). There are various types of content. Content can be in the form of Newsletters in email inboxes, eBooks, Infographics, Twitter updates, blog posts both on your website or as guest blog posts on other websites, Facebook pages, advertisements, Google Plus Hangouts, social media updates, books, mobile apps, videos, and landing pages amongst various other ways.
Google (and other search engines) has recently made many changes to their page-ranking algorithm to ensure that only those websites rank well that have holistic approach to Search Engine Optimization. In the simplest of terms, old methods of high-ranking websites that act as a place for getting links don't work anymore. Also if the algorithm ranks your website for spam links, the old SEO techniques would do more harm than any good, it would decrease the page-rank in such cases. Most of these ranking changes took place in 2012 and would continue in 2013. Since then a new and more effective way of optimization has emerged, which is a way holistically optimization your search engine optimization without the worry of being penalized by Google and other search engines.
Content Marketing is the key to better Search Engine Optimization in 2013, and it is just getting started. Content Marketing lets you create awareness about your brand to those people who need you but haven't still discovered you. You can do this by creating specialized communities for customers. With a good content marketing strategy, you can benefit in two-ways: provide updates to existing customers and create interest in prospective customers. For existing customers, content marketing acts as a creator of brand affinity, and for prospects it acts as a way to spread awareness. The best way to start with content marketing is to start a blog for your business. A blog serves a dual purpose. It brings in traffic to the site where relevant knowledge is shared, and it also helps in keeping the user there when the content is interesting and relevant to the user. The blog cannot market itself; it needs help from social media to get it noticed. Social media like Facebook, Twitter, LinkedIn, Google Plus etc. are very effective while sharing content and spreading word about your content.
Content shared across various social media by the users adds to search engine ranking of the content and in return of the product or service of concern. These mediums also act as amplifications, since when social media users find your content useful they re-share it with their friends and followers. It lets your content to be widely distributed. It is also very important to use photographs, videos, events, slide shows etc. with regular blogs. They are now equally important because their presence ensures a good ranking in the search engines since they show the search engine ranking bots that the creator has made effort to keep the content interesting and entertaining for the incoming traffic.
Photographs, videos and slide shows also ensure that the user can interact with various media on the website keeping the visit interactive for them ensuring a repeat visit. A business when shares its knowledge with the users, is telling them what it knows about, and that it is good at doing what it does. Case studies act as the best medium of proof to let others know how a company has already helped other users in getting the results that were promised.
Author Bio:
Venkatesh C.R. is the CEO of Dot Com Infoway, providing internet marketing solutions for online businesses. They also provide software, mobile application development, mobile apps marketing and a whole gamut of IT solutions and products to clients. Connect with him through LinkedIn and Twitter.
Image Credit: 1.