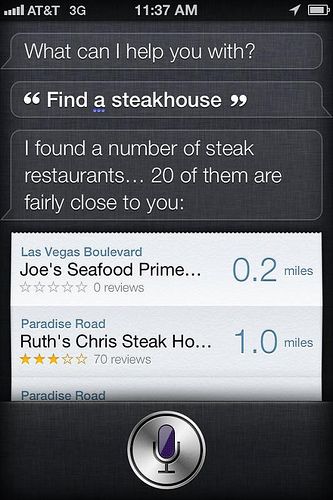 Smartphone and tablet use is on the rise and it is changing the way people search. Siri and Google Voice on smartphones allow users to search by voice command. These results can be different from traditional search engines like Google and could really change the search landscape and search engine optimization.
So what does voice search mean for SEO? Read on to find out.
Keywords Still Rule
Even with voice search, keywords will still be king when it comes to SEO. Your average Internet user is just as likely to look up the same kinds of phrases that were once typed into a search bar. Though a user may say complete phrases, like "Find the best Italian restaurants in downtown Baltimore" instead of just the keyword, programs like Siri and Google Voice recognize the important words in this sentence and put their algorithms to work pulling search results.
Spelling, however, won't be so much of an issue. While most search engines are fairly intuitive when it comes to what the user actually intended to spell, sometimes so many people are likely to misspell the name of a product that it can cause problems for companies that haven't taken that into consideration in the foundational design of their website. That problem will be no more, as a voice search user needs to only speak the word, rather than spell it.
Popularity Contest
In part because how a person will often phrase a voice search command, asking for the best or a good business, reviews and high rankings on external sites could begin to be more important as voice search begins to dominate the market. Siri, in particular, views sites like Yelp to refer a user to a business that has a high rating. Social networks could be increasingly important factors in results.
For the business owner, that means the company website should be completely fleshed out and as search engine optimized as possible. It also means careful monitoring of review sites, so that the owner can respond online or make changes in response to the comments. Both can help a company improve its image and its ranking on voice search and traditional type-in searches.
Location-Based
This is important for both voice and traditional searches, since even a normal Google search will tailor a search to a specific location. Voice searches, especially those built into a phone, specifically focus their searches on a given area. That means that you need to be sure that your website, your social media sites, and as many other links online as possible include your business' address and contact information so that the search engines know and can verify your company is nearby. Search is becoming increasingly local so be sure to optimize for local SEO.
As programs built into mobile technology become more advanced, they will become more intuitive not just to users in general but to the owner of the phone. This means businesses are going to have to know their customer base better to ensure that their website and other web presence will flag the voice search to place them highly on search listings.
John Reynolds authored this post on behalf of 9th Sphere, an SEO Toronto helping clients gain more traffic from search.
Image Credt: 1.